About Us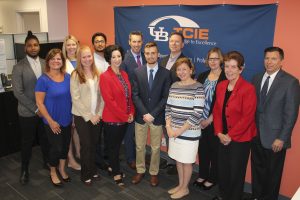 Since 1987, TCIE has insisted that clients question the status quo. The reward has been resolving a wide spectrum of business challenges, expanding customer satisfaction through greater value and boosting profits. Our Engineering Solutions, Operational Excellence and Professional Development services yield impactful results by facilitating organizational development and stimulating business growth for economic advancement.
We are grounded in proven methodologies, best practices and strong discipline. But we are also sensitive to the unique aspects of each industry and organization. TCIE's client-centered, customized approach to bridging public-private partnerships harvests a road map for attaining the sustainable improvements that enhance our clients' profitability and net a gainful return on investment.
Facts
Engineering Services, augmented by a State University of New York SPIR grant, accounted for more than $56 million in increased client sales and created or retained over 3,000 jobs in FY 15/16.
——————————————————————————————————————–
Operational Excellence services guarantee an ROI of 21x for clients who commit to our recommendations (cost avoidance, hard savings and increased revenue)
——————————————————————————————————————–
Professional Development programs annually reach about 1,000 working adults of every educational background, from high school graduates to doctorates.